What To Expect When Having Your Bathroom Remodeled
Hi There!
Today I will discuss key details on what to expect when you're ready to move forward with your bathroom remodeling project you have been anxiously deciding on when to actually start!
Whether you are remodeling a powder room or your master bathroom, the construction process is no small undertaking. Below are three steps that will sum up your project from beginning to end.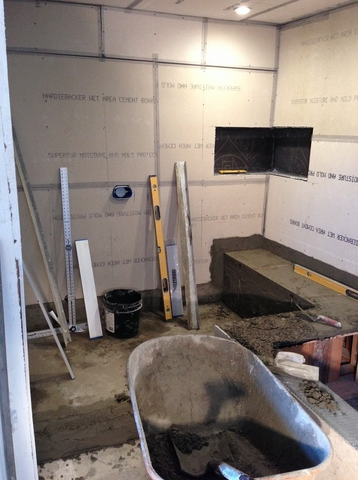 Initial meeting with the Interior Designer and General Contractor:
Even though none of the decisions have been finalized on the details of your project, this is one of your most important meetings that you will encounter with your interior designer and general contractor. This is the time where you express all your needs and concerns, budget, design style, and time-frame. All these factors will ultimately impact the overall cost of the job. When discussing your ideas it is important to realistically pin point key elements that will feasibly work within your space. There are times when small details have been overlooked by the homeowner that may lead to costly issues right in the middle of the construction phase. In order to prevent that from happening your interior designer and contractor will assess the project making sure all aspects have been discussed in order to provide you with an accurate estimate and stay within budget.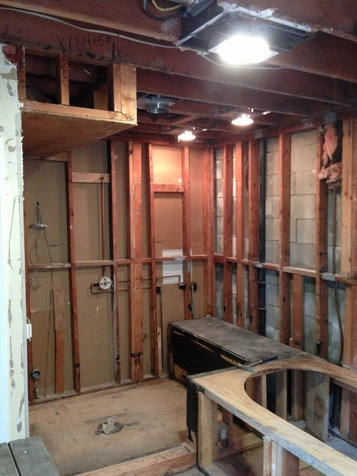 The Demolition & Rough Construction Phase:
The demo and rough work phase is what most homeowners dread, giving up your bathroom for a few weeks does not sound like the most ideal situation. Let's not focus on the negative side of demo, look at it as the gateway to your newly designed dream bathroom. After the demo process is complete and the job site is free from construction debris; it is now time to start installing all rough plumbing and electrical fixtures. Before any of this takes place, you and your interior designer will have already discussed the placement of your vanity, tub/shower, toilet, and all light fixtures. Once everything has been installed in it's place, its time to close up those walls making way for the final and finish work, where everything starts to take form and start looking more like your dream bathroom.
Final Construction Phase:
The final stage of construction is where you start to see all the finishes, fixtures, and materials your interior designer helped you select all come together. The walls and ceilings are being painted, plumbing and electrical fixtures are being installed, you start to notice tile designs taking form on your floor and walls, and the cabinetry and the countertop have been fabricated and are next in line to be installed. A bathroom remodel can take up to two weeks to complete from start to finish, depending on the size of the job. However, this is a huge factor to take into consideration, two weeks sounds like a reasonable time to execute a bath remodeling job and its feasible only when materials, fixtures, and cabinetry have been ordered in advance. This saves time and money in the long run. It would be really unfortunate if you absolutely fell in love with a tile that has an eight-week lead time and have that hold up the rest of the job. Plan accordingly and make sure that most if not all building materials and finishes are on site or easily accessible.
So in a nut shell, this is what you should anticipate to experience when making your dream bathroom become your reality! Of course, each job comes with its own set of issues and concerns, but this is your standard guide.Feel free to contact me for your next project!
Final Stage – Ready for Tile!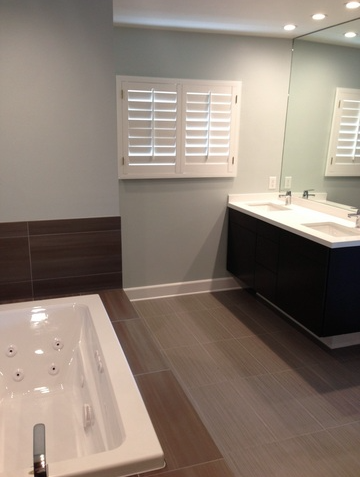 Finished Product!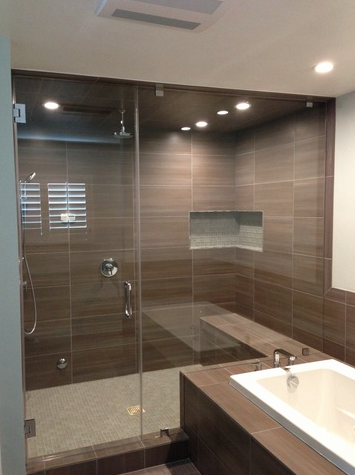 Till Next Time,
-Raquel C.
Los Angeles Bathroom Designer