Quick, Easy, & Budget Friendly
Hi Everyone!
What's quick, easy, & budget friendly you might be asking yourselves right now? Transforming a room! Yes folks it's very simple to keep a room looking fresh, not stale.
Over the weekend I came across a very interesting Q&A article on the Wall Street Journal interviewing Interior Designer, Holly Hunt. The article gave a quick insight on her interests, her new business venture (bought out by Knoll for $95 Million!) and quick interior design tips.
In the article I read up on her view on a quick room transformations. "One of the quickest ways to transform a room completely taking everything out and apply a fresh coat of paint." Then you re-furnish the room using the same furniture (omitting some pieces is even better) BUT arranging the furniture in a different layout. "Even moving around the same furniture changes the room's energy"- Holly Hunt
I'd like to add a little more to her theory on transforming a room.
Four simple accessories to add…
Plants – I'm sure you have you a cute little plant laying around somewhere in your house… why not let it migrate to your newly transformed room! If you don't have one, go buy one at your local grocery store or Home Depot! Or of you easily kill plants just like I do, then buy a pretty cactus or worst case scenario buy a fake one. (BUT PLEASE TRY REALLY HARD NOT TO GET A FAKE ONE!)
Plants really add a nice homey touch to any room in the house.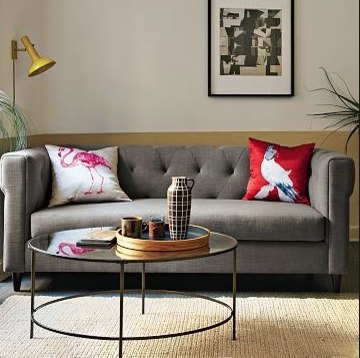 Throw Pillows – You can find very nice throw / accent pillows for a reasonable cost almost anywhere now. Target, Ross, Marshals, or the Home Goods. With throw pillows you can add punches of color without feeling nervous if it will work or not. Using color in safe ways through throw pillows or trinkets is pocket friendly and fun! Through accent pillows you also add different interesting textures and patterns to your transformed room.
Picture Frames- Gather a few of those family portraits and frame them in cool or funky picture frames of your choice. Whether they are plain solid color frames or glammed-up ones. If your photos are still in your phone… print them! Adding family memorabilia creates subconscious happy family moments. Reminds you of what's really important in life.
Lamps – Decorative table lamps and floor lamps adds a soft nice glow to a room. Setting the ambiance of peace and tranquility. No need to have on those overhead lights or ceiling fan on all the time.
That pretty much sums it up. Happy experimenting! Feel free to contact me for a consultation if you find yourself needing a little more help by just clicking on the link below.
Talk to you later,
Raquel C.
Los Angeles Interior Designer