Los Angeles Hotels with the Best Pools!
Today I woke up thinking about how summer is almost coming to an end and how much I've enjoyed my summer but like every good thing, I wish it wouldn't end! Although summer is ending, it doesn't mean that the fun stops now! If you didn't get a chance to take a summer vacation with friends or family, then it's not too late to splurge a little at these amazing pools that those of us that live in Los Angeles practically have in our own back yard. There is still time for a weekend getaway or even a one day getaway to enjoy one of these relaxing pools. If you are still looking to enjoy some sun by the pool, below is a list of a few peoples that known as the best ones in LA!
1. The Standard Hotel has a pool deck that is a bona fide icon. The pool deck includes blue AstroTurf, Ping-Pong, food, and people sun bathing.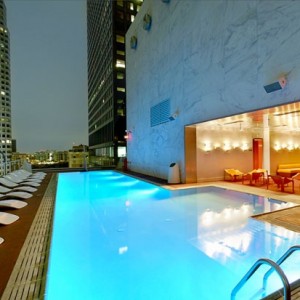 2. Terranea Resort opened the Vista Pool on August 14, 2015. This breath taking pool joins three existing pools. You will feel so relaxed with the magnificent views of the Pacific Ocean as well as food and beverage services in a relaxing atmosphere. The saltwater pool and Jacuzzi are the perfect oasis if you are looking for a quiet place to soak up the California sun.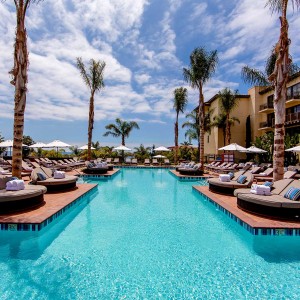 3. The Ace Hotel was designed with a rooftop pool, inspired by Donald Judd's in Marfa, Tx. You can sit by the poolside with a magazine or with a fresh-squeezed cocktail.
4. The Andaz in West Hollywood has a stunning swimming pool, overlooking the Hollywood Hills and downtown LA to the Pacific Ocean. It's the highest rooftop pool in Los Angeles – is a sexy, sky-lit sanctuary for relaxing in the sunshine or enjoying the West Hollywood scene.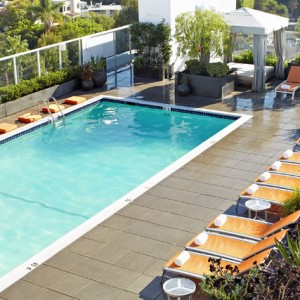 5. The London West Hollywood pool is perched atop the hotel amidst the heart of LA. This pool has spectacular, panoramic views of Los Angeles, Beverly Hills, and it goes all the way to the Getty Center and beyond. An inviting destination by day or night, the exclusive rooftop pool deck and private luxury cabanas offer the serenity of a chaise and tranquil sun-drenched California afternoon.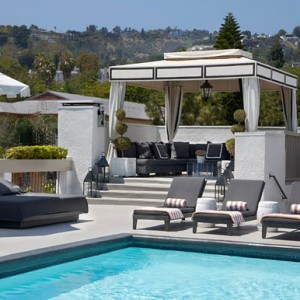 6. The Mondrian is a beautifully designed hotel pool, set flush with the surrounding teak deck and featuring soothing underwater music. It's the perfect spot for lounging and enjoying the stunning panoramic views of Los Angeles. The Outdoor Living Room brims with fragrant flowers, blooming vines, enormous trees and comfortable teak and wicker furniture. At night time the pool looks amazing with hundreds of flickering lanterns placed around the deck and hanging from the boughs of trees, it transforms into a magical and romantic hideaway.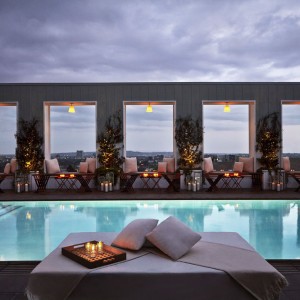 I've had the opportunity to visit one of these pools! Every one needs a little relaxation away from home, splurge and enjoy!
-Raquel C.