Interior Design Trend or Flop? – Lucite Furniture
Happy Thursday Everyone!
Over the decades we have seen so many interior design trends hit our homes. Some quickly fade (neon furniture) some are acceptable (wallpaper) and some are still in limbo!
One of my favorite trends keeps making strong come backs, however there are still a few of you out there who aren't sure on how to react to this trend…. I'm talking about Lucite Furniture!
In my professional and biased opinion (I'm a huge fan) I believe that any interior whether it be a commercial or residential setting – there is no room for mistakes when placing at least one piece of Lucite furniture in your home or office. Lucite even pairs up nicely in a more "traditional" style of home decor. You don't necessarily have to have a modern or contemporary decor to pull this off.
However, using these pieces in moderation is key. Place a simple coffee table, side table, chair or desk one at a time…. Not all at once! That's when the trend can go horribly wrong… can you imagine having a room filled with literately clear furniture?… Whoa! Lucite furniture is nearly invisible, which works well in smaller spaces… creating an illusion of having a little extra space. "A Lucite piece can be a whimsical accent in a room, adding a hint of luminescence." says interior designer
Vicenzo Avanzato.
A great place for Lucite furniture us in the kitchen for two reasons; 1. No fret over stains, easily wipeable! 2. Since they are clear its they aren't really there… not taking up any visual space.
Lucite furniture come in different shapes, sizes, styles, and even colors now.
My favorite take on Lucite is using this material and having it made into a more traditional looking piece of furniture.
This side table has a Moroccan flair to it, Lucite gives it an extra oomph!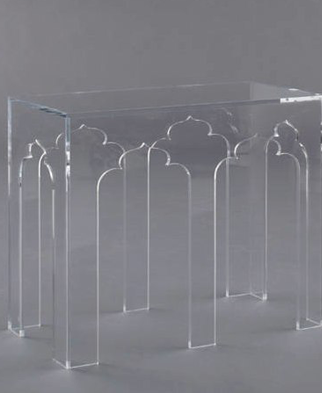 The very popular Ghost Chair resembling the Louis XV style during the Rococo period back in the 18th century.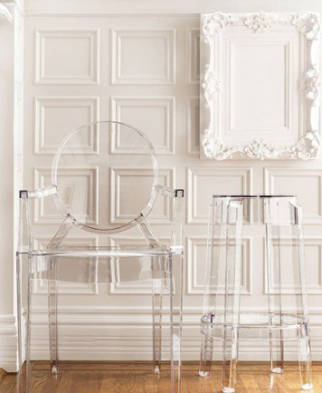 Lucite desk featured in an inviting modern space.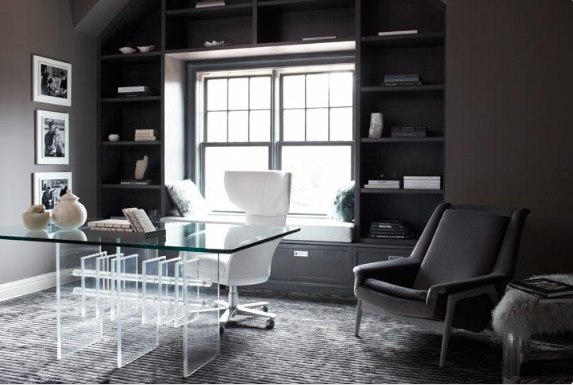 Lucite chest – makes a great coffee table!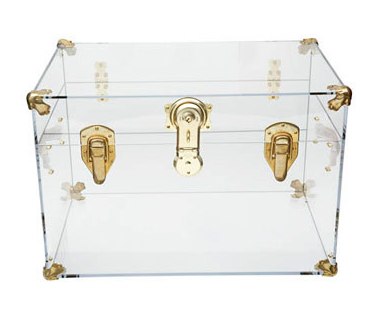 Simple sleek Lucite coffee table looking fab in a traditional home.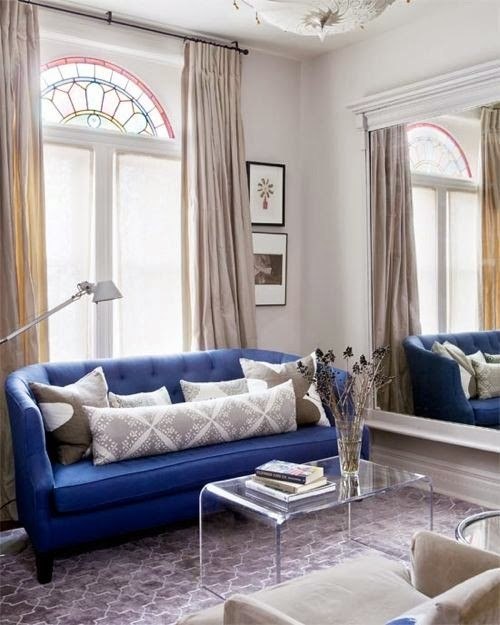 As you can see, this trend is very forgiving. No matter where you place it will always look good; having a minimal yet strong presence in your living room, kitchen, home office, or dining room.
Expect it to be a conversation piece at your next family gathering.
Yay or nay? Is Lucite furniture clearly elegant or transparently tacky?
Raquel C.