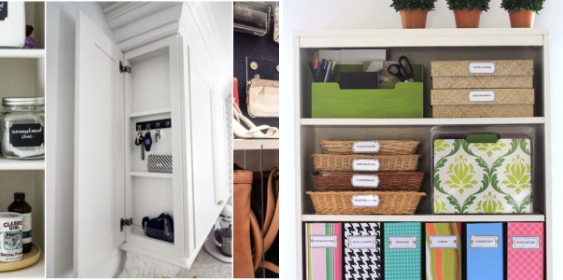 Home Organization Ideas
Now that summer is coming to an end. Now that the children are back to school and things at home seem to be going back to normal, it is time to organize your home! If you don't have children but your home seems to be cluttered and messy, then you've got some organizing to do as well! We can all benefit from some home organization ideas and i'll be sharing a few ideas with you today. Probably you have too much stuff, or just don't have enough space to put all things away. Most people don't know how to organize and others are very creative about organizing and find out what works for both their storage needs and their space.
The first thing I suggest you do is to start by taking a walk around your house. Pick up all the different types of items that are on your floors and counters, or slung on the backs of chairs and across tables. Especially items on that one chair that we all tend to stack our clothes on, I have one of those too! You may think that you have a system of organized chaos going on, but it's likely that in addition to having clutter, you're also taking away space that could be used for purposes other than makeshift storage. You want to create storage that you'll actually use, so make your storage system intentional. Here are a few ideas that can be helpful through out your house:
Organize your jewelry by using jewelry holders.
For your closet, If you have the standard shelves you can add more space with an extra rack.
Behind a closet door or in the inside you can organize all those belts, ties and accessories your men wears.
You can organize your kitchen drawers with drawer organizers or over the door and under the sink drawers.
Put a silverware sorting tray in the bathroom to organize everyone's tooth brushes.
Get rid of puzzles that your children no longer use and organize puzzle boxes.
Consider purchasing a Creativity Station for kids. It can serve as an art table, homework table and even to play LEGOS, all in one!
If your space is small, you can use the day bed concept.
For your garage you can install overhead storage racks. Always make sure you get safe racks so that they don't fall on your or your car!
I plan on using a few of these organization ideas in my home pretty soon! Some of the storage bins, jewelry organizer, etc. can be purchased at The Container Store, IKEA or Bed Bath and Beyond. There are other stores but these are economical, unless you are DIYer. Below are a few images just for inspiration.
-Raquel C.