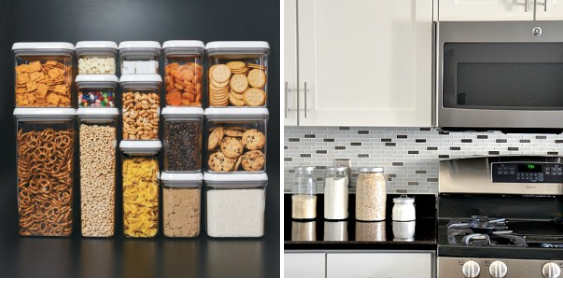 Kitchen Organization Ideas
I've noticed that the biggest problem with standard kitchen cabinets in the home is the inefficient use of space. Cabinets/shelves that have been installed by the builder are often spaced too far apart, leaving wasted space between stored goods and other shelves. Today I will be sharing some helpful Kitchen Organization Ideas to help you in tackling that wasted space in your cabinets. One of the favorite places in the house for me is the kitchen. I love to cook but cooking, baking, and preparing food is a lot more enjoyable in an organized kitchen! Not everyone has the luxury of a large and modern kitchen, but that doesn't mean that we can't use a few affordable and easy little tricks to make our lives easier. Here are a few easy and inexpensive ways to organize your kitchen:
Use plastic bins as pull-outs. I have so many kitchen gadgets that get lost in the back of my deep cabinets that I forget I even have them!
Use Rod dividers, Instead of stacking your cutting boards, oven trays, and platters; use those short tension curtain rods to create dividers. Now you can place them upright for easy access and visibility.
Use stacking shelves in cabinets, you will take advantage of all the empty spaces with stacking shelves.
Use drawer dividers to keep those drawers organized.
Group like items together in small bins and label the contents or even select bins that you can see through for quick identification.
If you have a door in your pantry or kitchen area, don't neglect that often wasted space. Use a hanging organizer for canned goods or spices.
One of the many advantages of having an organized kitchen is that you'll save yourself a great deal of time and money if things in your kitchen are easily accessible. You don't have to spend hours searching for that brownie mix or pancake mix you know you had somewhere. This week I've been sharing many organization ideas for your home, kitchen and bathroom. I hope all of those have been helpful to you and have inspired you to get organized! The below images are a few that inspired me to get organized.
-Raquel C.